How much longer before they wake the hell up?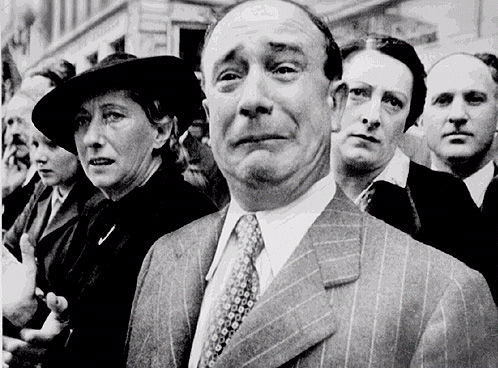 Graphic images of the war in France
Author: Nidra Poller
As Islamic outrages multiply, PC France remains adamant: This has nothing to do with Islam
PARIS. Islam, où est le problème? [literally, Islam, where is the problem?]. In the wake of the latest spate of Islamic rage operations, Yves Calvi, one of our most decent journalists, made an honest effort to squarely face the question. Though he tried as usual to include a broad range of guests, the September 24th broadcast of his political discussion program "Mots Croisés" was a mismatch, with philosopher Alain Finkielkraut fending off a barrage of accusations from all sides. Accusations, of course, against us, not against Islam.
The very possibility that Islam might be a problem was evacuated early on. The majority of Muslims in France are law-abiding well-integrated members of society. The proof? French Muslims did not react violently to Charlie Hebdo's caricatures of Muhamed. Consequently, the problem is not Islam and Islam is not a problem. The problem is the failure of French society to integrate immigrants and make them feel at home. The problem is the stigmatization of Muslim immigrants down to the third and fourth generation, relegated to ghettoes, victims of discrimination in the job market, subjected to humiliating ID controls, constantly suspected of criminality.
[…]
Does it take an Israeli who served in Gaza to get to the heart of the Islam, où est le problème question? The journalist Zvi Yehezkeli has produced a four-part documentary for Israel's Channel 10 entitled Allah Islam. Passing for a Palestinian journalist, he was welcomed into the intimacy of Muslim communities in several European countries including France and Denmark (see our own Lars Hedegaard in that segment). I don't expect any French TV channel to run a subtitled version of the series!
Left, Right, and Center in France defend the "modèle républicain" of integration as opposed to a decried "Anglo-Saxon" mosaic of juxtaposed ethnic communities. This might be one more blinding illusion. According to an article in the daily Libération, the Franco-Qatari fund for the banlieues didn't come out of the blue on a magic carpet; it was negotiated by members of Aneld (Association nationale des élus locaux pour la diversité), an association of local elected officials whose diversity is rather uniform. Not bothering to create a lobby, they went straight to the source. If the government still hasn't managed to curtail the influence of foreign states in French mosques, how will it deal with these freelance foreign policy makers?
In the field, the issue is crystallized in anecdotes like this: C., a Frenchman in his 60s, Parisian born-baptized-and bred, practices his profession in a firm that, like many others escaping high rents, located in the banlieue. "We do not feel safe in Aulnay-sous-bois," he says. "We have to take infinite precautions to protect ourselves and our offices. I saw a garage explode. Because 'they' didn't want to vacate it. The police stood by and did nothing. I cross a large open area on my way to work. The other day, someone walking behind me called out. I turned and asked him what he wanted." C.'s gaunt face is hidden by a thick, short, salt and pepper beard. "'Are you a Jew?'" he asked. I replied, 'absolutely not,' he mumbled 'OK,' and I went my way."
What if he were Jewish, and admitted it? What if he bore some identifying feature? Like Jewish eyes?