For the socialist, conformity is the only best result.
Just think N.Korea, everyone (except the Communist party grand poobas) exists in equal misery. That is exactly the thinking behind the call to sanction an ingenuous cook from preparing better meals for her school, due to the other schools not having the exact same opportunity.
Instead of encouraging ingenuity, it smashes it down like a hammer on an anvil. Supposed diversity sponsoring lefts who promote themselves as the champions of "la difference", can't stand success of others, and more importantly, the control lost due to decentralization, so they reign in the wayward chef.
NOTE: In the U.S., the 50 states are though of as the laboratory of the Union, where different ideas are tried, and learned from. Innovation and initiative are rewarded (at least until the the rise of the statitsts). In Sweden, it's top down authoritarian rule, under the guise of a multiparty system.
H/T Fjordman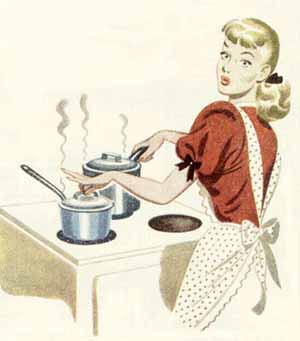 Lunch lady slammed for food that is 'too good'
Published: 6 Oct 12 15:04 CET | Double click on a word to get a translation
A talented head cook at a school in central Sweden has been told to stop baking fresh bread and to cut back on her wide-ranging veggie buffets because it was unfair that students at other schools didn't have access to the unusually tasty offerings.
Annika Eriksson, a lunch lady at a school in Falun, was told that her cooking is just too good.
Pupils at the school have become accustomed to feasting on newly baked bread and an assortment of 15 vegetables at lunchtime, but now the good times are over.
The municipality has ordered Eriksson to bring it down a notch since other schools do not receive the same calibre of food – and that is "unfair".
Moreover, the food on offer at the school doesn't comply with the directives of a local healthy diet scheme which was initiated in 2011, according to the municipality.
"A menu has been developed… It is about making a collective effort on quality, to improve school meals overall and to try and ensure everyone does the same," Katarina Lindberg, head of the unit responsible for the school diet scheme, told the local Falukuriren newspaper.
However, Lindberg was not aware of Eriksson's extraordinary culinary efforts and how the decision to force her to cut back had prompted outrage among students and parents.
"It has been claimed that we have been spoiled and that it's about time we do as everyone else," Eriksson said.
She insisted, however, that her creative cooking has not added to the municipality's expenses.
"I have not had any complaints," she told the paper.