And I don't mean for the "inner struggle", they could do that in the privacy of their holes in the ground.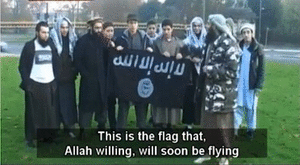 Dutch Muslims Travel to Jihad Areas
Minister of Security and Justice Ivo Opstelten (Liberal) has sent a document to the Parliament on the threats of terrorism. He mentioned that Dutchmen have traveled to areas of jihadic battles. Their presence in the long run may be a risk for the Netherlands because jihadists may inspire others and once they return to the Netherlands, there is the possibility that they will continue their activities.
There is no indication however, so far that returning jihadists have such intentions. Among Dutch jihadists, there is much interest for the jihad in Syria. Also Egypt is attractive for them, the more so as in Sinai, there is a lack of authority which gives jihadists the possibility to develop their activities.
H/T: BadNewsFromTheNetherlands via Telegraaf.nl