The Swedish socialists love to provoke as well, but only, safe, safe soft targets.
In other words, they love to provoke those who won't threaten them with physical violence. These same people however, would all be leading the charge to condemn any piece of art that dare capture Mohamed, the founder of Islam (with over 1.2 billion members) with gays festively feasting on pizza dripping off his chest. The hypocrisy here is overwhelming.
NOTE: Oh yes, the same artist has captured Christianity's revered figure, Jesus, in one of her works of art as well. …real brave. Like I said, they're all hypocrites. There are more exposed skeletons in Mo's closet than in the Swedish Royals' closet ever could be, so my advice to them all is, have a go at it…if they dare.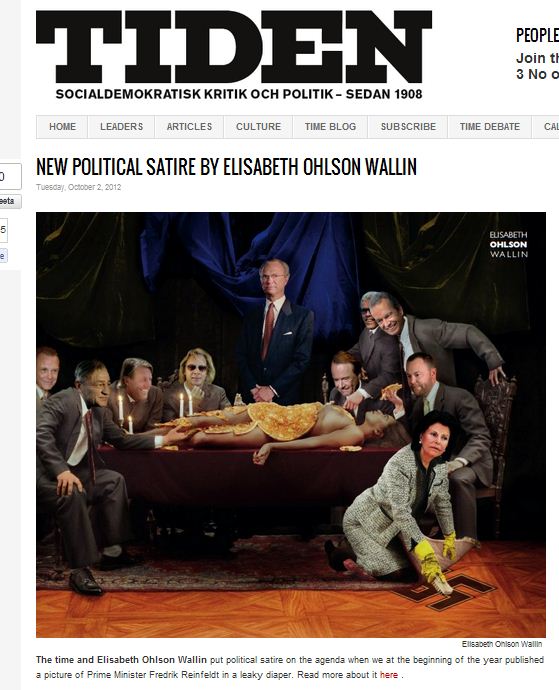 Swedish royal fury over 'offensive' artwork
Published: 4 Oct 12 17:25 CET |
A Swedish artist said on Thursday she has no plans to apologize to the country's royals for an "offensive" picture depicting the King Carl XVI Gustaf eating pizza off a naked woman's body and Queen Silvia wiping a swastika off the floor.
I understand that the royal family felt the need to put their foot down, but I have no intention of issuing a formal apology or retracting the picture," artist Elisabeth Ohlson Wallin told The Local.
"I'm sure it's hard for them to have to revisit all the things associated with the picture, but it's a work of satire."
The image at the heart of the controversy, which appeared earlier this week in a magazine published by the Social Democratic party, is the third in a series of satirical works by Ohlson Wallin depicting powerful Swedes.
In the picture, the king is shown staring over the naked body of pop singer Camilla Henemark, together with a group of people eating pizza off her.
Several of the men sitting around Henemark also figured in "Carl XVI Gustaf – Den motvillige monarken" ('Carl XVI Gustaf – The reluctant monarch'), an unofficial tell-all biography that rocked the Swedish royal family when it was published two years ago.
In book claimed that the king and Henemark had been lovers and also included details about alleged visits to strip clubs and connections to suspected mobsters.