I have to admit as to seeing this picture yesterday, but not noticing that the bag he was carrying was from a Finnish grocery store chain, "Valintatalo" (literally in English, "Choice store')'. Actually the bag was given to him to hold by the Finnish journalist who took the picture in the 1980's, during the Soviet-Afghan war. A TT translation of the Finnish article from the IltaSanomat.
NOTE: What this also proves is that the Afghani fashion is still stuck in the 80's, and in the 80's, still stuck in the centuries that preceded it.
H/T: Vasarahammer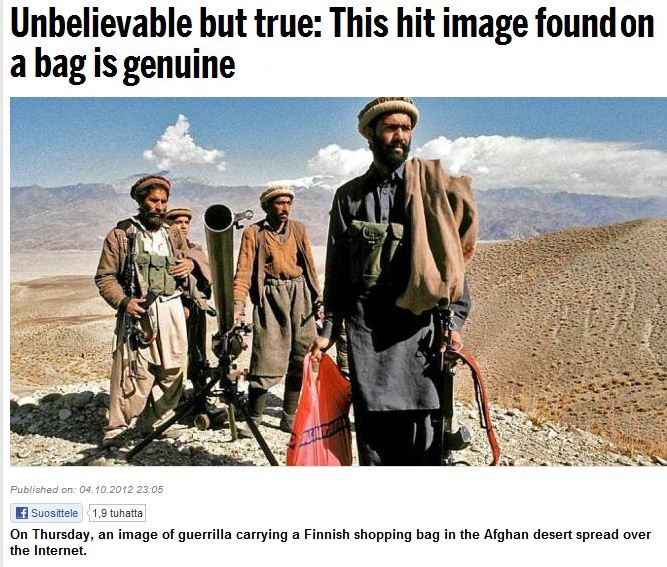 Iltasanomat: On Thursday, hundreds of people shared their confusion around an image of a plastic bag being carried by an Afghan guerrilla. Image manipulation was widely suspected. The same conclusion was also reached by the IltaSanomat's (Finnish newspaper) photo department.
However, the picture is genuine.
– It's from the 1980's, the exact year I don't remember. I have been there so many times traveling the mountains with Afghan guerrillas, says journalist Rauli Virtanen who took the picture.
However, he remembers the situation well. Leaving on a journey he was getting food for the travel and souvenirs at the Valintatalo, at the junction of Lönnrotinkatu and Mannerheim streets. The bag went with him.
– In Afghanistan, people wanted to carry guests' things, such is the way there, Virtanen says.
Then came the moment when the photo was taken: The perfect mountain landscape, with outstretched arms, and a Valintotalo bag in the guerrilla's hand
– I have several versions of the image, Virtanen says.