It's what Islam has done throughout its history, stamping out the religions and cultures of the indigenous people. Islam is a monoculture.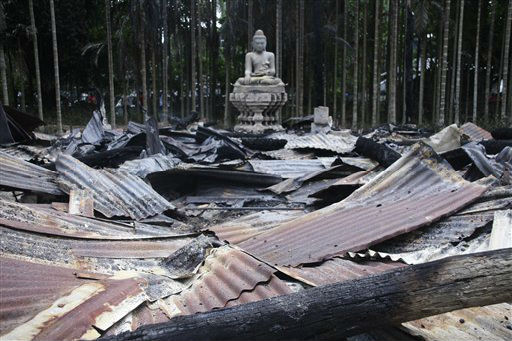 Buddhist temples targeted in Bangladesh
A rare outbreak of anti-Buddhist rioting in Bangladesh has left at least four temples and dozens of homes gutted by fire. Muslims had taken to the streets to protest against an internet photo they said defamed Islam.
Senior police officers in the Cox's Bazar coastal district said deployments of soldiers and border guards had helped quell the violence.
[…]
"They became unruly and attacked Buddhist houses, torching and damaging their temples from midnight to Sunday morning," said district administrator Joinul Bari.
A police officer, Rumia Khatun, said thousands of Muslims first attacked a Buddhist hamlet in Ramu, torching centuries-old temples, and later stormed Buddhist villages outside the town.
A local journalist, Sunil Barua, himself a Buddhist, said two of the temples set ablaze during the rioting were 300 years old.
"They looted precious items and Buddha statues from the temples. Shops owned by Buddhists were also looted," Barua said.
The Muslim head of the local council, Sohel Sarwar Kajal, said he was trying to mediate.
"We are doing everything possible to quell tension and restore peace between the communities," he said.
Buddhists make up less than one percent of Bangladesh's 153-million population and reside mainly in southeastern districts, close to the border with Buddhist-majority Myanmar.