Stupid, stupid, stupid….
The headline to The Local is misleading, this is only one green light in a long line of many,  but this is how it all begins. The furthering of Islamization in Sweden till it reaches a tipping point. Keep clowning around with your freedoms Sweden, and don't ever say that you weren't warned. Here's a quote by the Islamic society's chairman, Ismail Okur which shows you exactly their mindset, their insistence to keep the pressure up for more and more:
Okur stressed, however, that the Islamic Association's initial request was to have a call to prayer once a week, rather than five times a day. "We have to start somewhere," he said.
NOTE: Some years ago, Sweden's ministry of (anti-)justice headed at the time by Göran Lambertz refused to raise charges against that allowed a mosque the right to continue offering tapes with antisemitic messages, deeming them in compliance with local cultural norms in discourse. This was done in light of the fact that Jews are consistently bearing the brunt  of antisemitic attacks, far more than Muslims claim (falsely) about themselves.
ALSO: Meanwhile: Jewish center attacked in Malmö Sweden breaking (today 28.9.2012)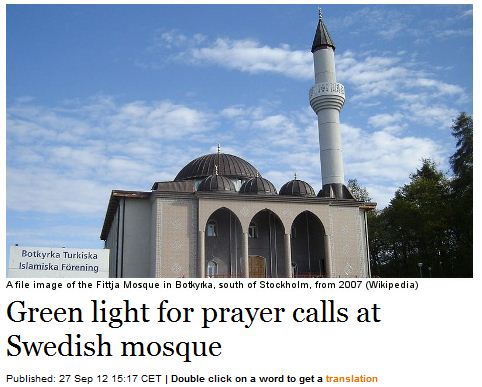 On Tuesday, a majority of the members of Botkyrka municipality's city planning committee voted in favour of scrapping a 1994 prohibition on allowing prayer calls dating from before the construction of the mosque, located in the municipality'sFittja district, the Dagen newspaper reported.
The Christian Democrats were the only party to vote against allowing the mosque to make prayer calls.
The matter was put to a vote after Ismail Okur, chair of the Botkyrka Islamic Association (Islamiska föreningen i Botkyrka) filed a citizens' petition with the local council in January seeking permission to allow prayer calls at the mosque.
[…]
However, the local council's decision to allow prayer calls at the mosque is only the first step toward making Okur's request a reality.
First the entire municipal council and executive board must approve the move. Then the Islamic Association must decide whether to file a request for a permit with local police, or start sounding the call to prayer immediately.
The decision could be of major significance for Sweden, as it could set a precedent for other mosques in the country to follow, according to Dagen.
Stefan Dayne, a Christian Democrat member of the city planning committee who voted against lifting the ban, claimed that members of other parties didn't vote to uphold the prayer call ban because "they were afraid" of losing the support of local Muslims.