Sharia compliance in action
Intentionally or not, they're setting this guy up to be offed in prison, there is a high number of Muslims there, just waiting for him.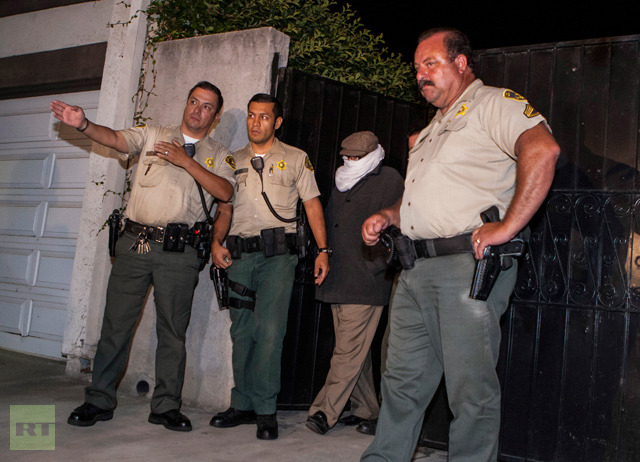 Please do take note that the Obama administration is bringing to bear the full weight of the federal government against this guy, all the while he digs his heels in over the Fast & Furious debacle. There he couldn't care less that a US marshal and 100 Mexicans are dead, and all those untraceable weapons still in Mexico that his administration floated across the Mexican border.
But a guy who violated his probation, that's the guy to go after, not the jerks who actually contributed to the deaths of people, just a lone film maker who published an anti-Islam film of Mohamed. This is how far the U.S. has slunk since the Obama inauguration.
NOTE: There are loads of released ex-cons who violate their probation, are not sought after be the Feds, especially non-violent ex-cons, you'll have to ask yourself why the beefed up high profile of the arrest and quick to charge nature of this case?
Feds Arrest Producer Of Controversial Anti-Islam Film On Probation Violation Charge
The producer of the controversial anti-Islam film "Innocence of Muslims" has been arrested for violating terms of his probation and is set for an appearance today in U.S. District Court in Los Angeles.
Nakoula Basseley Nakoula, 55, is scheduled for an initial appearance in the courthouse where Judge Christina Snyder sentenced him in June 2010 following a bank fraud conviction.
[UPDATE: Citing Nakoula's "lengthy pattern of deception," a federal magistrate this afternoon ordered him held without bond for alleged probation violations, including making false statements to his probation officer and using aliases. The judge rejected a plea from Nakoula's lawyer, who argued that the convicted felon's life would be in danger at an L.A. lockup due to the facility's large population of Muslim inmates. Nakoula will remain in custody in advance of a probation revocation hearing, the date for which has yet to be scheduled.]
Investigators have not yet provided details about how Nakoula allegedly violated probation, but it seems clear that his involvement in the "Innocence of Muslim" production is central to the government's new charge.
Nakoula (seen above) was sentenced to 21 months in prison to be followed by six months in a halfway house. Upon completion of the custodial term, he was placed on probation for five years.
Included in his probation terms were prohibitions on his use of the Internet, unless he secured prior approval from his probation officer. Additionally, he was not to "use, for any purpose or in any manner, any name other than his/her true legal name or names without the prior written approval of the Probation Officer."
While producing "Innocence of Muslims," Nakoula repeatedly used the alias "Sam Bacile" (and other variants) in communications, online postings, and dealings with cast and crew working on the film.