Note how the article makes it clear that they know why Pro Deutschland showed pics of Mo at their demo, "to provoke the Muslims gathered in opposition to riot". So by default, The Local (German branch) are suggesting that any Muslim(s) who gather in a street to protest any offense of their beliefs, are in fact a violent lot, who can be driven to violence at the drop of a hat.
So that shows you the fallacy of the multicultural experiment, that all cultures are equal, when in fact, they are not. These Muslims hail from a wide range of countries, yet, when assembled together in a mixed crowd, they can be counted on to act in the same way, at least that is what The Local is saying in this article.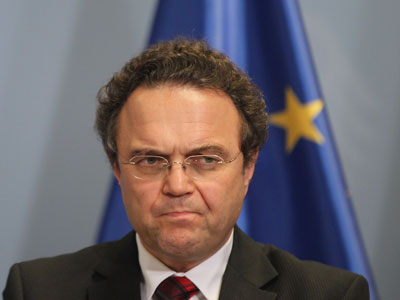 Interior Minister Hans-Peter Friedrich: Any speech that I strongly disagree with, I'll gladly censor in a heartbeat.
Minister: I'll fight attempt to show anti-Islam film
Published: 16 Sep 12 09:38 CET
An anti-Islam far-right group wants to stage a Berlin screening of the provocative anti-Islamic film that sparked violent protests across the Muslim world, a report said.
"For us, it's a question of art and freedom of expression," Manfred Rouhs, head of the small Pro Deutschland group told Der Spiegel magazine.
Interior Minister Hans-Peter Friedrich said he would use every legal means at his disposal to stop them.
"Such groups and organisations only want to provoke Germany's Muslims," he said, accusing them of recklessly pouring oil on the fire. 
Pro Deutschland is known for its provocative demonstrations. Last month about 50 of its activists staged demonstrations outside three Berlin mosques, in action they said was aimed at Islamist extremists. This followed a previous demonstration in Cologne which successfully provoked extremist Salafist Muslims into violence against the police.
They brandished copies of cartoons of the Prophet Mohammed that sparked violent reactions across the world when they were first published in a Danish newspaper.