Doesn't this get under your skin people? Teachers' wages paid by the taxpayer are higher than others in their field in the private sector, earning around 80 000 grand besides benefits, and are not satisfied with what they have during a period of depression where real unemployment hovers around 19%.
NOTE: Obama also favored bosses of the auto unions as well. GM still hovers on bankruptcy due to his mishandling of the situation (stock still in the basement after the taxpayer was forced to buy it at 54 bucks a share) rescuing his union pals for future votes while the company never restructured itself, is a major fiasco and a stain on US politics.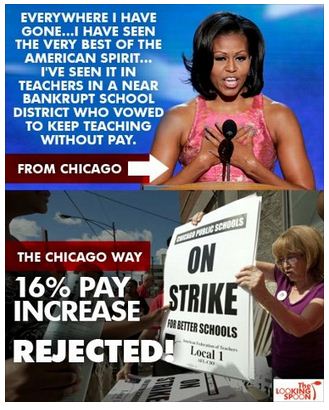 H/T for pic: Alexis Worlock
Teachers strike leaves parents scrambling: 'As long as they're on strike, I can't work either.'
The strike sweats are sweeping Chicago, a citywide epidemic characterized by stressed-out parents and confused children who don't know when a cure is coming.
Less than a week after the bulk of Chicago Public Schools students and parents started their back-to-school routines, from early morning wake-up to late-night homework supervision, it all came to a screeching halt when teachers hit the picket lines Monday.
Regardless of their feelings about the strike, parents and guardians frantically sought last-minute child care, pleaded with their bosses for leniency and hoped that their kids would return to school sooner rather than later.