The thieving part is unknown, the victim part is.
And to think that there are Western stooges in government and in "yuman rights" groups demanding sharia for Muslim immigrants in the West. Unfreakingbelieveable.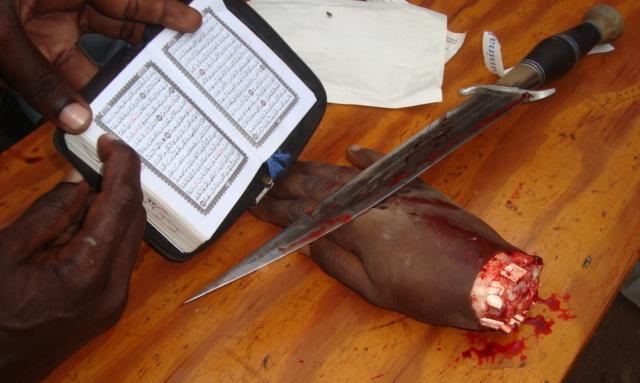 Ibrahim Toure, a resident of Gao who is not related to the police commissioner, said he was passing by the square just after the amputations and saw children carrying buckets of water to wash away the blood. "There was blood everywhere," said Toure, who described how the children also were trying to carry bags of sand in order to soak up the liquid.
ISLAMISTS CONDUCT AMPUTATIONS IN MALI
BY BABA AHMED AND RUKMINI CALLIMACHI
ASSOCIATED PRESS
BAMAKO, Mali (AP) — Islamic police said they used a stage in a public square to amputate the right hand and left foot of five accused thieves in a city of Mali on Monday, in the latest application of Sharia law in the country's north.
That region of Mali, an area the size of Texas or France, was overrun by rebels allied with al-Qaida five months ago.
Despite a loud outcry from the international community and protests from locals, the Islamists have applied an extreme interpretation of Islam, and have stoned to death an adulterous couple, cut off the hand of another thief and publicly whipped people accused of other transgressions.
Monday's amputations occurred in the northern city of Gao, said Aliou Hamahar Toure, its Islamic police commissioner.