The whole lying corrupt cadre of Marxists in the Obama administration, from the top on down, needs to be booted out of office.
NOTE: What the media allows these miscreants to get away with is absolutely criminal. If it were a Republican administration acting similarly, you would hear nothing but from them, 24/7.
Via Breitbart.com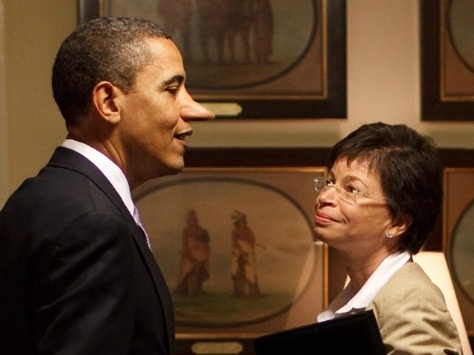 THE AUDACITY OF CRONYISM: JARRETT, PLOUFFE, AND DONILON
It's hard to know which is worse: the arrogance of the Obama administration in assuming that its White House staffers can get away with anything, or the apathy of the media in not holding those staffers accountable.
Actually, let's scratch the word "apathy" and call it what it really is: abjectness. The media have been abject in their willingness, even eagerness, to serve the political interests of this administration and its re-election effort.
Let's consider the cases of three staffers, all at the top rung of the White House ladder: Senior Adviser Valerie Jarrett, Senior Adviser David Plouffe, and National Security Adviser Tom Donilon.
Valerie Jarrett has been a mentor and ally of Barack Obama for two decades; by all accounts, she has an unshakable bond not only with him, but also with Michelle Obama. And now her clout is apparent to all: aprofile of Jarrett, written by Jo Becker and appearing in Sunday's New York Times, was headlined, "The Other Power in the West Wing." As in, there's the President, and there's Valerie Jarrett.