Demagoguery and buffoonery at its worst.
h/t: Baron Bodissey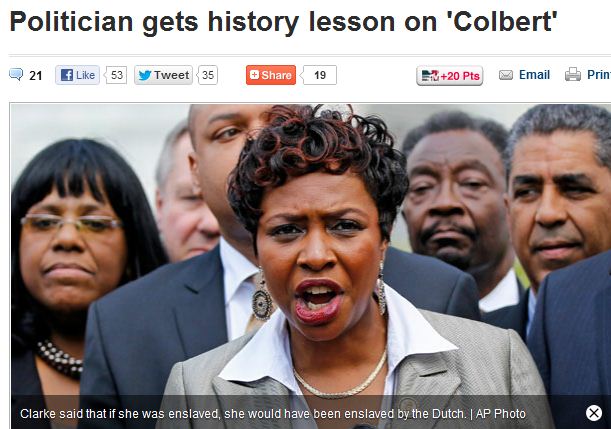 Rep. Yvette Clarke (D-N.Y.) apparently needs a refresher on the history of her borough, after she suggested on "The Colbert Report" that slavery persisted in the United States until 1898.
"Some have called Brooklyn's decision to become part of New York City 'The Great Mistake of 1898,' " Colbert said, asking her about the history of her home borough. "If you could get in a time machine and go back to 1898, what would you say to those Brooklynites?"
"Knowing what I know now… I would say to them, 'Set me free,' " Clarke responded.
"From?" asked Colbert, giving her an out that she didn't take.
"Slavery," she replied.
"I'm pretty sure there wasn't slavery in Brooklyn in 1898," said the comedy show host.
"I'm pretty sure there was," said Clarke, without any hint that she might be joking.
"It sounds like a horrible part of the United States that kept slavery going until 1898," said Colbert.