And the lefty hack politicians suck it all up and slap their backs!
Finnish minister for international development (and anti-Israel sentiment) Heidi Hautala (Greens) and Pali minister for water (and dutifully demonizing Israel as all pali officials do), Shaddad Attili, heckle and jekyll it up in Helsinki.
NOTE: He sounds like a Democrat saying Republicans want dirty water.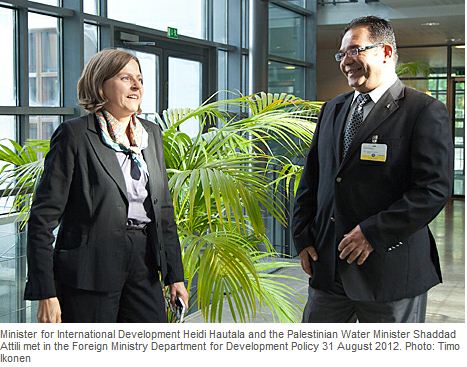 […]

Israel controls water resources

The temporary Oslo agreement referred to by Israel still dominate the use of water resources in the Palestinian territories and development. Israel's use is estimated at 89 per cent of the occupied area's water resources.

"Hundreds of thousands of Palestinians are living without clean water. The construction of new wells are needed, however, they have to be allowed by Israeli authorities, and it is often impossible to obtain. Therefore, many are forced to buy an expensive tank of water, "Attili said.

More in Finnish at the government's deceitful website.
 Israel is taking care to fulfill its part in the water sector, and has actually placed at the disposal of the Palestinian Authority a much larger amount of water than is required under the Interim Agreement (Annex III, Appendix 1, Article 40). According to the Agreement, the direct supply from Israel to the Palestinians in the West Bank (in addition to water the Palestinians produce themselves) must amount to 31 million cubic meters, but Israel actually supplies the Palestinians with 52 million cubic meters. In contrast, the Palestinians are drilling new wells in violation of the Agreement and do almost nothing to deal with their sewage, which flows into the rivers, much of which flows into Israel.