And of course you won't hear a word of dissent coming from the OIC, they're too busy pushing the "islamofauxbia is the greatest scourge facing the world today" meme.
Egypt Shuts Down Last Jewish Synagogue
Posted by Daniel Greenfield Bio ↓ on Aug 31st, 2012 Comments ↓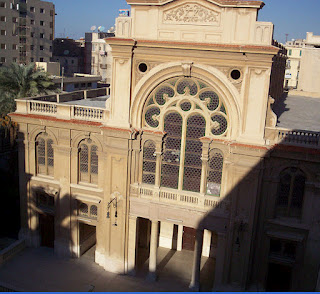 The Anti-Israel crowd likes to pretend that the ethnic cleansing of the Middle East's Jews was an economic phenomenon. And every few weeks there is a reminder of how precarious the situation is even for the few Jews still remaining, in what was once an Egyptian city with a tremendous Jewish population.
For the first time in 2,000 years, this year there will be no Rosh Hashana and Yom Kippur services at the Eliyahu Hanavi Synagogue in Alexandria.
The synagogue was the last 'working' synagogue in Egypt. The Egyptian authorities have banned High Holiday services for 'security' reasons.
Levana Zamir, who heads the International Association of Egyptian Jews in Israel, comments: "It seems this is really the end of Jewish life in Egypt. The authorities have found a way to take over the last Jewish bastion, since all the remaining synagogues are already archaeological and tourist sites. It is very sad."