A meeting to carve up Syria?
Come on, how long do you think the 'good gesture' will last? Besides, as long as they are having a go at each other (Alien vs. Predator), the West is not the prime target.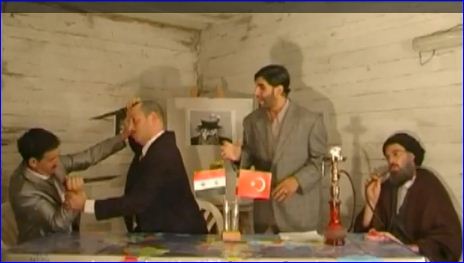 Saudi king sits next to Iran's Ahmadinejad in goodwill gesture
RIYADH (Reuters) – Saudi Arabia's King Abdullah seated Iranian President Mahmoud Ahmadinejad at his side to welcome leaders to a summit on Wednesday, an apparent conciliatory gesture before the Organisation of Islamic Cooperation suspends the membership of Iran's ally Syria.
Foreign ministers of the 57-member body have already agreed to suspend Syria over President Bashar al-Assad's crackdown on protests. The decision, which requires support of two thirds of members and is strongly opposed by Tehran, is expected to be implemented on Wednesday at a summit called by Abdullah in the holy city of Mecca.
Syria's civil war has divided Muslim countries on sectarian lines, with Sunni-led Arab states and Turkey backing Syria's rebels, while Shi'ite Iran supports Assad.
Sunni Saudi Arabia and Shi'ite Iran have tussled for influence in recent years in sectarian conflicts across the Middle East. In giving Iran's leader such a prominent place at the summit – shown on Saudi state television – King Abdullah was making what analysts described as an important gesture.