A very interesting take on the issue. Read up.
So, what can we learn about nuclear weapons programs through the prism of wrestling? Though wrestling is often associated with martial arts brutality, it is actually a scientific study in how to anticipate your opponent's behavior and react. Top-caliber wrestling is often marked by an aggressive, methodical patience.
The task for U.S. foreign policy right now is to systematically break Iran's monopoly of patience.]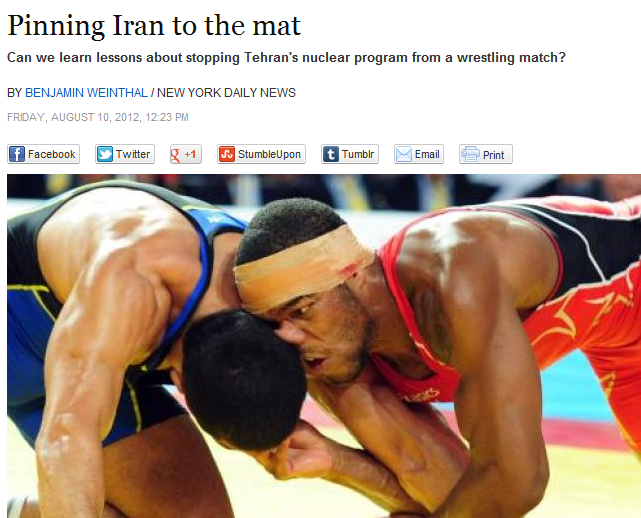 There will be a physical confrontation between Iran and the United States on Friday night. But it's not in the Strait of Hormuz; it's in the Olympic Games, on the wrestling mat.
U.S. wrestler Jordan Burroughs will meet Iran's Sadegh Saeed Goudarzi in the gold medal round of the men's Freestyle Class 74 kg. (163 lbs.).
Though metaphors can all be strained and Olympic wrestling is a murky area to extract lessons about Iran's politics, the ancient sport presents some possible clues to stop Iran's strategic drive to develop nuclear weapons.
Stay with me. As a professional Iran-watcher and former avid wrestler, I see connections.
Journalists and some Iran analysts frequently invoke chess and carpet weaving to characterize Tehran's bottomless patience to outflank its adversaries at the nuclear talks designed to end its illicit enrichment of weapons grade uranium. The origins of chess can be found in Iran and the country produces some of the most highly complex woven carpets in the world.
The art of grappling is, however, where Iran currently excels.