The TT is against any big government intrusion into the private affairs of the citizenry.
To all my regular readers who are as worried about Islamization as I am, banning circumcision is not the way to defeat Islam, informing the general population about sharia, rejecting any institutionalization of public compliance to it, while going after sharia compliant politicians in the polls, is the solution. Defeating the OIC is the aim here, not going after individual-personal decisions through intrusive big government methods and means.
NOTE: Banning circumsicion, regardless of your pro-con views on it, will in the end hurt only the Jews, not Muslims, who will invariably find a way around it, while the Jews will simply have to leave the state.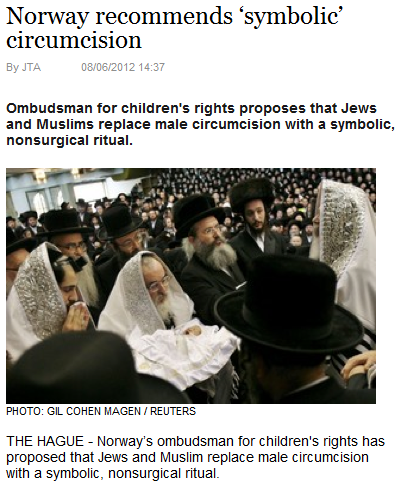 Dr. Anne Lindboe told the newspaper Vart Land last month that circumcision in boys was a violation of a person's right to decide over his own body. "Muslim and Jewish children are entitled to the same protection as all other children," she said. She added that the practice caused unnecessary pain and was medically unbeneficial.
Lindboe, a pediatrician, was appointed ombudsman in June. Her predecessor, Reidar Hjermann, proposed setting 15 as the minimum age for circumcision. According to Jewish religious law, Jewish babies must be circumcised when they are eight days old.
The children's ombudsman is an independent governmental institution entrusted with safeguarding the rights of minors.
Ervin Kohn, president of The Jewish Community of Oslo, said that Norwegian Jews "will not be able to live in a society where circumcision is forbidden." He noted that the mandate of Norway's children's ombudsman did not extend to devising Jewish rituals. Norway has a Jewish community of about 700.