Now that would be interesting to witness.
H/T: Vlad
Cossacks get call-up to keep out Muslims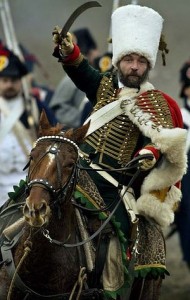 Photo: Reuters
THE governor of Russia's Krasnodar region, which will host the Winter Olympics in 2014, has enlisted the area's Cossacks as an auxiliary police force, urging them to prevent darker-skinned Muslims from moving there.
Alexander Tkachev, in a speech to police officers on Thursday, announced that as of next month, 1000 Cossacks would be paid from the budget to maintain public order.
He said the Cossacks – whose paramilitary forces served the tsars – could take measures beyond what the police are allowed.
"We have no other way," he said. "We shall stamp it out, instil order; we shall demand paperwork and enforce migration policies."