Like I've said all along, the purpose of the jihad is to impose sharia. Clueless Westerners however, allow the Muslims to instill it without a whimper or a hand grenade going off.
 H/T: Zip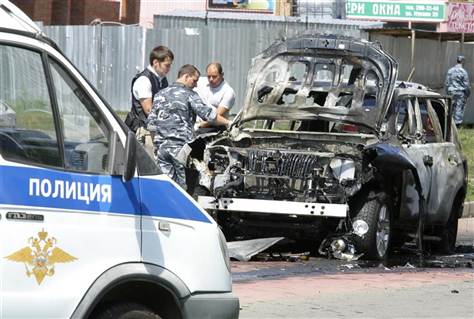 Claim of Responsibility in Russia Attack
MOSCOW (NYT) — A self-described guerrilla fighter urging strict adherence to Islamic law has claimed responsibility for the killing last month of one Muslim leader and the attempted murder of another, in Tatarstan, a region in central Russia that prides itself on a tradition of religious tolerance.
"On July 19, 2012, on my orders an operation was conducted against the enemies of Allah," the guerrilla fighter, who identified himself as Muhammad, emir of the mujahedeen of Tatarstan, said in a video posted on an Islamist Internet site that focuses on the predominantly Muslim Caucasus region, including Chechnya.
In the video, he is shown sitting in the woods, with an automatic rifle propped against one knee. He specifically named the victims of the attack last month: Valiulla Yakupov, the cleric in charge of Islamic education in Tatarstan, who was shot and killed outside his home in Kazan, the regional capital; and Ildus Faizov, the chief mufti in the region, who survived a car-bomb attack less than an hour later.
"All praise Allah," the jihadist, Muhammad, said in the video. "We believe the operation was a success." He also warned of further violence against Muslim leaders who do not adhere to Shariah, the strict legal code of Islam based on the Koran.