And there'll be more pounding just wait and see. The Russians have been sending Assad some heavy fire power, it won't be stockpiled to be collecting dust.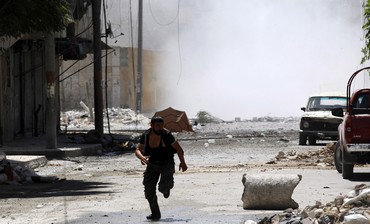 Assad's artillery, planes pound vital prize of Aleppo
By REUTERS 08/05/2012 01:33
Syria forces attack rebel frontline in Salaheddine district; jets bombard Damascus as onslaught continues, resident says; after Annan resignation, peace plan a distant memory. PHOTO: GORAN TOMASEVIC / REUTERS
ALEPPO – Syrian President Bashar Assad's forces used artillery, planes and a helicopter gunship to pound rebel positions in Syria's biggest city, witnesses said, in a battle that could determine the outcome of the 17-month uprising.
After UN Security Council paralysis on Syria forced peace envoy Kofi Annan to resign last week, and with his ceasefire plan a distant memory, rebels were battered on Saturday by the onslaught they had expected in Aleppo and the capital Damascus.
Syrian forces struck at Aleppo's Salaheddine district, a gateway into the city of 2.5 million people that has become the frontline of an increasingly sectarian conflict that has killed some 18,000 people and could spill into neighboring countries.