Cribbed straight from Vlad, being both dog lovers, this was a hot topic of our conversation.
NOTE: I would team my pooch up with something like this and then hope for a rematch.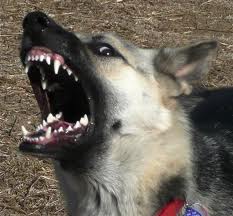 From The Digital Minute: (in Spanish and translated by Hermes)
A group of Muslims beat up a young Spaniard in a park in Tarrasa for walking his dog
A group of Muslims beat up a young Spaniard in a park in Tarrasa for walking his dog and injured two policemen who tried to help him.
Sunday, July the 29 – As every morning, the 27 years old man was peacefully walking his dogs in Font Breda Square, in the San Lorenzo neighborhood. As on other occasions, he was being accompanied by his 50 year old mother. The night before, his cousin had been walking her pet in the same square, when a group of Muslim women reproached her for walking near them with an "impure animal". They began to quarrel and the Muslim women attacked her, after which she had to be treated in a hospital. After the incident, she filed a complaint against them.
It looks like following this incident some Muslims were waiting in ambush for the family. So last Sunday, when the young man and his mother appeared in the square, some 50 Muslims were already waiting for them. With no previous word, they beat him up and almost killed the dog.
Then the first police car with two officers appeared there, but due to the high number of Muslims, they had to call for reinforcement. 6 more police cars appeared. But far from being daunted, the Muslims challenged the police, and they even attacked them.
The outcome of this brawl resulted in two officers injured and four (Muslims) detained. The attacked family turned to Alerta Digital to express their fear of reprisals from the Muslims. Even during the brawl, the Muslims threatened them with cutting their necks, all this in the presence of the officers, who were just looking numbly.
People of the neighborhood have showed their outrage to these extremely serious happenings and their support for the family. That's why they have called on all neighbors in Tarrasa owning dogs to join a demonstration in the park (where these incidents happened), together with their pets.