One law for them (lenient)…and another for us.
The judge of course erred, British law should be applied evenly between all peoples, regardless from where the originally hailed. If the man acted like he did out of respect of his own culture and its mores…it proves he wasn't assimilated and multiculturalism an abject failure.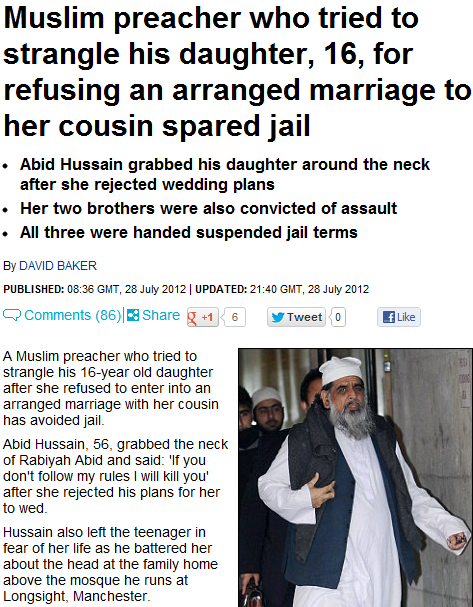 […]
Sentencing Hussain Judge Michael Leeming said: 'You're a man of high standing in the local Asian community and take your family, culture and religion very seriously.
'Its clear that these offences were committed in the context of your strict religious and cultural beliefs.
'At home Rabia had in your view departed from what was expected of her. 'But of course she was 16 and entitled to make her own decisions and mistakes.  'And if it comes about that she has made a mistake then she will know it is of her own making.
'I am satisfied this was a strange loss of temper but an attempt to part your own influence and control on your daughter an attempt to coerce her in to conforming with your own beliefs.'