Mirrored in full from the Gates of Vienna:
Kevin Carroll For Police Commissioner!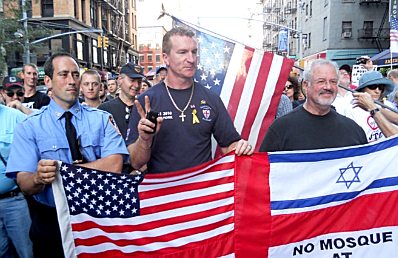 Kevin Carroll, a founder of the English Defence League and now the joint vice-chairman of the British Freedom Party, is standing for police commissioner in Bedfordshire.
In order to file for the election, Kevin needs to raise a deposit of £5000 (about $7860). Any Briton (or friend of Britain) who wants to see real political change in the UK should dig deep and help Kevin get his name on the ballot.
Like other leaders, members, and supporters of British Freedom, Kevin represents the age-old tradition of British liberty, which has been sorely neglected for the last few decades. As police commissioner he would be in a position to advocate for policies that would help restore true civil order to a country that has long been deprived of it.
According to the BF website:
Kevin Carroll For Police Commissioner!
In November 2012, for the first time ever, members of the public will be able to vote for a Police and Crime Commissioner (PCC) to act as "the voice of the people and hold the police to account" in their police force area.

Police and crime commissioners (PCCs) will aim to cut crime and deliver an effective and efficient police service within their force area.

To provide stronger and more transparent accountability of the police, PCCs will be elected by the public to hold chief constables and the force to account; effectively making the police answerable to the communities they serve.

Police and crime commissioners will ensure community needs are met as effectively as possible, and will improve local relationships through building confidence and restoring trust. They will also work in partnership across a range of agencies at local and national level to ensure there is a unified approach to preventing and reducing crime.

PCCs will not be expected to run the police. The role of the PCC is to be the voice of the people and hold the police to account.
(Source: Home Office.)
British Freedom is pleased to announce Party co-Vice Chairman Kevin Carroll as PCC candidate for the Bedfordshire Police Authority. Kevin has strong views on policing and amongst other things will be campaigning for:

An end to cuts in the police service.

Substantial improvements to pay and conditions of officers on the street, who are at the sharp end of crime and disorder in Britain.

An end to political correctness, which is forced on officers by their politicised superiors, diverting time and energy to 'hate speech' and other trivial offences whilst dangerous criminals go free.

An end to 'two-tier' policing. There should be no special favours for minority groups, criminals should feel equal force of the law — British law, not Sharia Law or any other kind of alien law.

Strong policing of anti-social behaviour that blights the lives of many families.
No more police time wasted on manning speed traps.

A crackdown on the dealing of hard drugs to young people.\

Proper enforcement of the law against alien practices such as female genital mutilation.
Rigorous policing of all areas where crime is suspected, regardless of 'cultural sensitivities'. Paedophile gangs must NEVER AGAIN be allowed to operate with impunity as they have in Rochdale and Dewsbury.

For Kevin's candidacy, we need to raise a deposit of £5000, and are asking members and supporters to give what they can, so that British Freedom can begin making Britain's police service properly accountable to the law-abiding majority who pay for it.
Please visit the British Freedom website and help make Kevin Carroll the Bedfordshire Police Commissioner.