French police unions are outraged
Letting them go "in a gesture of appeasement during Ramadan", how farcical can you get? Just wait until marxist french regime takes to appeasement of Islam on steroids, there's going to be lots more of outraged people.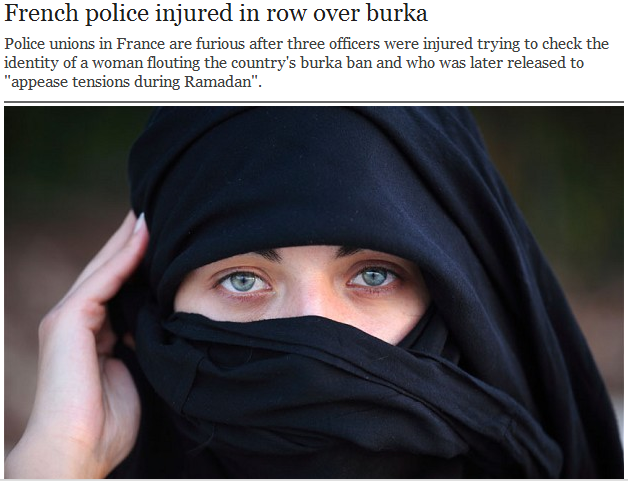 The officers ordered the 18-year-old called Marie-Louise to produce her identity card around midnight outside a mosque in the southern French city of Marseille, which has a large Muslim population.
She was wearing the niqab that leaves all but the eyes covered in contravention of a 2010 law banning wearing any face-covering veil in public.
The woman refused, saying: "I don't obey the laws of the French Republic" and allegedly bit one of the officers. Scuffles then broke out with around 50 people present including the woman's partner. Three officers were lightly injured.
Reinforcements arrived and four people, including the woman and her partner, were arrested and taken to a police station. But they were released shortly afterwards "in a gesture of appeasement during Ramadan", according to the public prosecutor.