I have my beef with the Mao/Marxists that run China, but in this instance, I have to give them a polite golf clap.
China Steps Up Curbs on Muslims
2012-07-23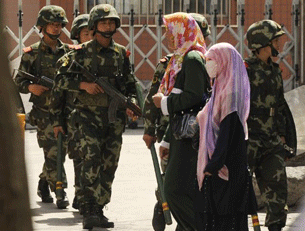 Authorities in Xinjiang ban public religious activities during the holy month of Ramadan.
Chinese authorities in the troubled northwestern region of Xinjiang have imposed curbs on the public observance of the Muslim holy month of Ramadan among the region's Uyghur ethnic minority, an exile group said on Monday.
The government, which earlier this month stepped up security around the sensitive anniversary of the 2009 ethnic violence between the Uyghurs and the Han Chinese that killed nearly 200 people, has banned any public religious activities by the region's Muslims, according to a spokesman for the Munich-based World Uyghur Congress.
"They have set up Ramadan stability groups in every official department and organization, and they have to select people to serve on them," spokesman Dilxat Raxit said. "Officials from these departments have to go and stay in mosques, so as to carry out personal surveillance work in all localities."
The Muslim holy month devoted to dawn-to-dusk fasting, prayers and good deeds culminates with the three-day holiday of Eid al-Fitr.
Meanwhile, teachers and professors, members of the ruling Chinese Communist Party and other civil servants in Xinjiang are barred from fasting during this year's Ramadan, which began Thursday and ends on Aug. 18, according to Raxit.