The feckless E.U., is the epitome of hypocrisy, it coddles outright supremacist terrorists like the Hezbollah (and wants Israel to have dialogue with the Hamas), but sets up a political cordon sanitaire around the peaceful, conservative, limited government minded Flemish separatist party, the Vlaams Belang. Go figure that one out, and then get back to me.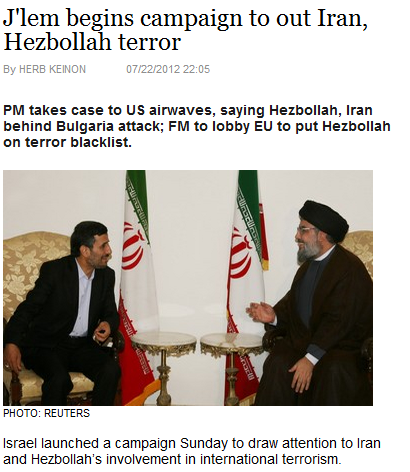 Prime Minister Binyamin Netanyahu took his case to the US public and Foreign Minister Avigdor Liberman announced a trip to Brussels to convince the EU to put Hezbollah on its terror blacklist.

Netanyahu, appearing on two Sunday morning interview programs – CBS's Face the Nation and Fox News Sunday – said it was clear beyond a doubt that Hezbollah was behind Wednesday's attack in Burgas that left five Israelis and a Bulgarian bus driver dead.