But it's in part, it's a crisis of her and Obama's making.
The MB will further Islamize Egypt, issue bellicose statements against Israel and try to walk the tight-rope between the military and US funding. The most that they want now however, is to fully implement the sharia.
 Did she dress properly for the occasion?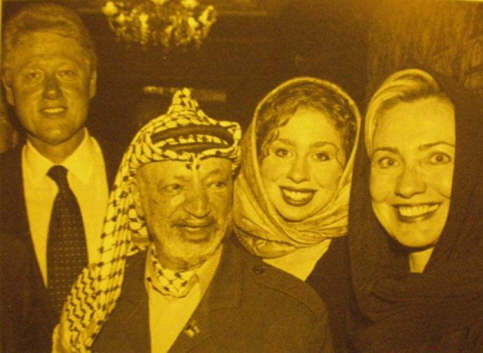 Clinton to Egypt's Morsi: Find way out of crisis
Jul 14, 4:07 PM (ET)
CAIRO (AP) – U.S. Secretary of State Hillary Rodham Clinton used her first meeting with Egypt's new Islamist president to press Mohammed Morsi to start a dialogue with military leaders as a way of preserving the country's transition to democracy.
Clinton voiced support for the "full transition" to civilian rule at a time when Morsi's backers are in a political standoff with the generals who have ruled since President Hosni Mubarak was ousted last year.
Resolving the impasse "requires dialogue and compromise, real politics," Clinton said. She said the United States is doing all it can to "support the democratically elected government and to help make it a success in delivering results for the people of Egypt."
The meeting at the presidential palace kicked off a series of high-level sessions aimed at stabilizing Egypt's fledgling democracy and its alliance with the United States, once rock-solid but now increasingly shaky.
"Things change (at) kind of warp speed," Clinton told Morsi as they began their meeting. Clinton and Morsi didn't shake hands, at least when they first appeared before reporters – a subject of much speculation because of Morsi's Muslim faith. But the president shook hands with Clinton and the entire U.S. delegation behind closed doors, according to a U.S. official.
The president, speaking in English, said, "We are very, very keen to meet you and happy that you are here." Clinton and Morsi were seated perpendicular to one another, the American on a sofa and the Egyptian on a chair.