Remember, the aim is always to smear the Jews
"Aisha [wife of Muhammad] narrated: The Prophet in his ailment in which he died, used to say, "O 'Aisha! I still feel the pain caused by the food I ate at Khaibar [Jewish tribe], and at this time, I feel as if my aorta is being cut from that poison." (Sahih al-Bukhari, Volume 5, Book 59, Number 713)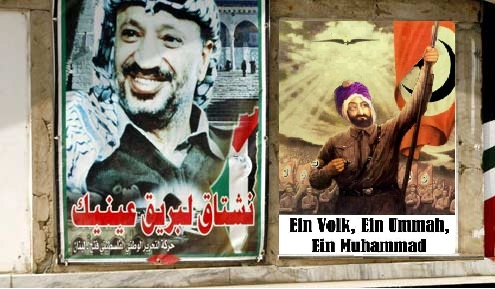 Arafat died of AIDS,
PMW: 
     Countering the libel, Ahmad Jibril, Head of the PFLP-GC (Popular Front for the Liberation of Palestine – General Command), stated frankly on Al Manar TV that the PA leadership is aware that Arafat died of AIDS: "When [Palestinian Chairman] Mahmoud Abbas came to Damascus, I asked: "What was found in the [medical] inquiry of the death of brother Arafat?" One [of the group] said: "Frankly, the French gave us the medical report, and the cause of Arafat's death was AIDS." [Al-Manar (Hezbollah TV) July 5, 2007] This information has never been released to the public.

To give credence to this libel, the PA concocted an international intrigue in which Israel initiated the murder plan, the US approved (with certain conditions), and the French doctors who treated Arafat concealed the truth in order to salvage the peace process.
Al-Jizz: What Killed Arafat?
NOTE: It is however an indisputable fact that polonium-210 is an extremely rare isotope (a fingerprint for the nuke industry) that has been used exclusively in cases involving enemies of Russia's president/prime minister/president, Vladimir Putin. So as Yisrael Medad writes at My Right Word blog: Who killed Arafat again?