Deterrence.
I'm sure that the passengers and crewmen wanted to ensure that the jihadis were rendered "unable" to complete their mission.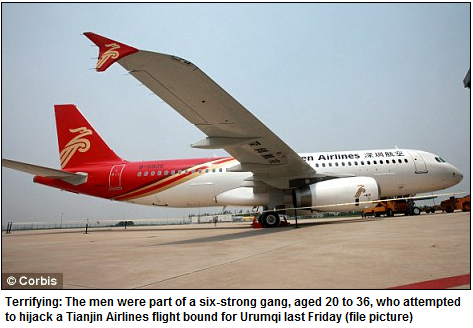 Two men suspected of trying to hijack a flight in China were beaten to death by passengers
By AMY OLIVER
PUBLISHED: 15:01 GMT, 2 July 2012 | UPDATED: 16:19 GMT, 2 July 2012
Two men who allegedly tried to hijack a plane in China were beaten to death by passengers and crew, state media said today.
The men were part of a six-strong gang, aged 20 to 36, who attempted to hijack a Tianjin Airlines flight bound for Urumqi last Friday.
Minutes after the flight carrying 101 people took off from Hetian, southwest Xinjiang, three men in the front and three in the back stood up and announced their plans to terrified passengers, according to reports.
The group, all from the city of Kashgar in the west of Xinjiang, then broke a pair of aluminum crutches and used the pieces to attack passengers while trying to break into the cockpit, a regional government spokesman said.
They were tackled by police and passengers who tied them up with belts before the plane returned to the airport safely just 22 minutes later.
Several passengers and crew members were injured in the tussle. The alleged hijackers were taken to hospital where two of them later died, the state-run Global Times reported.
The newspaper said two others were hospitalised after mutilating themselves, but gave no others details.