Like any Marxist, he'll game the system in order to politically project himself in the desired direction.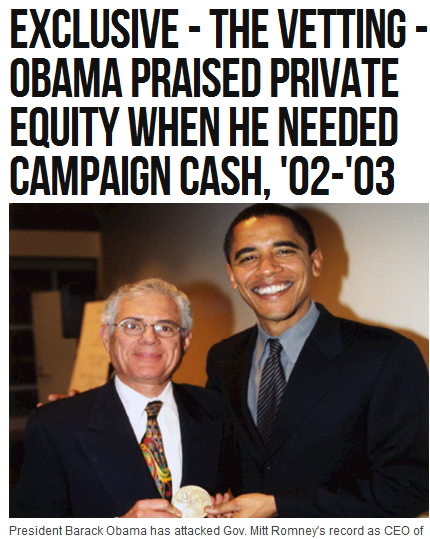 President Barack Obama has attacked Gov. Mitt Romney's record in the private equity industry as CEO of Bain Capital. But ten years ago, as he struggled to raise funds for his long-shot U.S. Senate campaign, then-State Senator Obama decided to embrace the private equity industry and its wealthy Chicago political donors. At one point, Obama even sponsored a resolution in the Illinois Senate calling calling private equity firms like Bain "the best opportunity for long-term economic vitality" and for "the creation of jobs."
Obama's campaign ads dismissively compare Romney's work at Bain to that of a "vampire" draining jobs and money from vulnerable companies and workers. After pushback from a handful of pro-free market Democrats in late May, the President himself publicly defended his campaign's attacks on private equity firms like Bain.