Out to lunch when it's fundamentalist Islam.
H/T: Paul Weston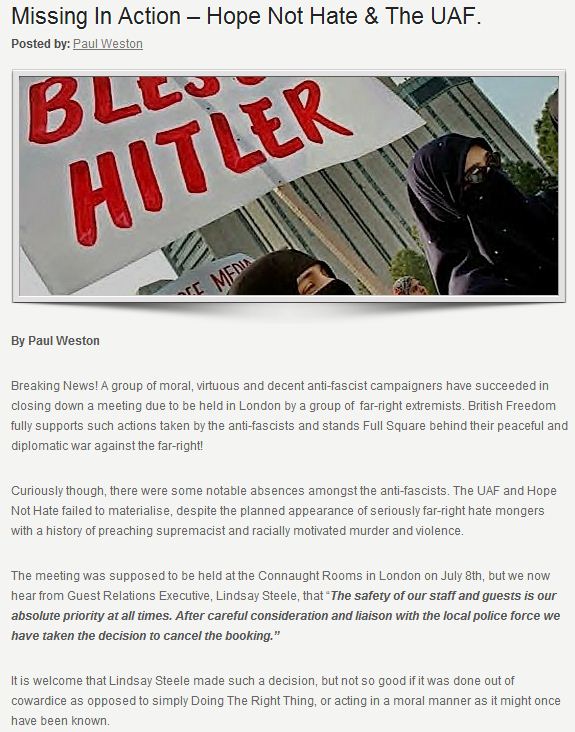 Ms or Mr Steele would have made a better impression if he/she had closed down the event based on the sickening far-right extremism of the invited speakers. Consider the following rhetoric from one of the supremacist delegates for example: "Devotion to war for the sake of Adolf Hitler, and the desire to shed blood, to smash skulls and to sever limbs for the sake of Hitler and in defence of Nazi ideology, is, undoubtedly, an honour for the believer."
Not very nice is it? But apparently OK with the Connaught management, one of whom has been quoted as saying that hosting an event for such people "did not bother me at all."
And how can those fine and upstanding defenders of anti-fascism within the ranks of the UAF and Hope Not Hate been so extraordinarily remiss in failing to do their bit to combat such intolerance, racism, supremacism and Nazism? Where were those paragons of virtue, Weyman Bennett and Nick Knowles, whilst this terrible right-wingery was going on under their very noses? Why their inexplicable absence?
The answer of course, is because I have not quite told the whole truth so far. The extreme far-right conference was not actually to be held by Nazis, but by Muslims. I have to confess that I have knowingly and deliberately misled you. I have shamelessly altered a few words in the scull smashing quote, which should actually read as follows:
"Devotion to Jihad for the sake of Allah, and the desire to shed blood, to smash skulls and to sever limbs for the sake of Allah and in defense of His religion, is, undoubtedly, an honor for the believer."