Are you freaking kidding me?!
This is a direct result of socialism not thoroughly being debunked and cast upon the ash heap of history. In stead the Cold War warriors misguidedly talked only about " totalitarian, atheistic communism", and not convincingly about the totalitarianism of the socialist welfare state and the statists that run it.
So I guess that this is the natural outcome. Outside of the genocide, race based politics and failed Marxist economic theories and the single party state (hard tyranny), what's the difference between that and the soft tyranny of the social democracies of Europe and EU?
NOTE: This is the age of the Orks, their grunts make more sense to "the masses" then the calls of reason and commons sense by us.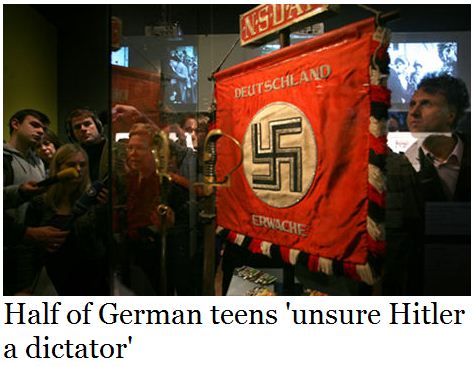 About half of young Germans are unsure whether the Nazi state was a dictatorship – and even more are not sure whether the socialist East German regime was one, a new study shows. 
The widespread ignorance is described in a study called, "Late Victory of the Dictatorships?" conducted by researchers at Berlin's Free University.
"This is shocking," said study author Klaus Schroeder. More than 7,500 school pupils aged around 15 were asked how they viewed the various governments that have ruled Germany.
Only around half were definite that the Nazi government was a dictatorship. Just over a third were certain that the former East German government was also a dictatorship.