Obama has a long history of hanging with nefarious types, just ask Bill Ayers.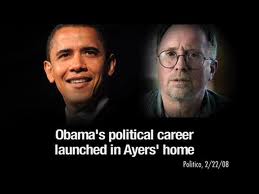 Rep. King questions how terrorist group member attended White House meeting
House Homeland Security Committee Chairman Peter King (R-N.Y.) has asked the Obama administration to explain why a member of a known terrorist group was allowed to enter the United States last week and participate in high-level meetings at the White House and State Department.
King wrote to Secretary of Homeland Security Janet Napolitano on Sunday to ask several questions about Hani Nour Eldin's visit last week. Eldin is a member of Egypt's parliament, but he is also a member of Gamaa Islamiya, or the the Islamic Group, which has been linked to violence in Egypt and is a designated terrorist organization.
"Mr. Eldin's membership in the Islamic Group is a matter of public record, and reportedly even disclosed on his Facebook page," King wrote.
"I am aware that there may be legitimate diplomatic reasons to grant a member of a designated foreign terrorist organization a visa to visit the United States, such as for example in furtherance of peace negotiations," he added. "However, the nature of Eldin's visit suggests an absence of full vetting rather than a policy choice, or perhaps a break-down in the screening missions of and coordination among our federal agencies."
King noted that last week, Eldin met with senior State Department officials and reportedly requested the transfer of the jailed leader of his group to Egyptian custody.