Lets hope that they listen and stay away in droves.
Via Bad News from the Netherlands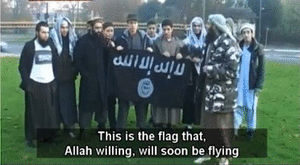 Extremist Muslim Group Calls on Muslims not to Vote
The T.V. station AT5 showed a video in which members of the Shariah4Holland group tried to convince Muslim youngsters in the Amsterdam neighborhood of Osdorp not to vote in the upcoming parliamentary elections. They said that voting is equal to idolatry, which is the only unforgivable sin in Islam.
The Shariah4Holland is a small group which wants to introduce Islamic law in the Netherlands. Recently, a spokesman of the group called for the murder of Freedom Party leader Geert Wilders in a meeting near the national monument for the fallen on the Dam Square. According to Dutch general intelligence service, there is reason to monitor this organization.