The idea that Islam's officially preferred disposal of korans by incineration is considered offensive by Muslims because it was done by non-Muslims, is offensive in itself. That the military is even giving their "grievances' any attention at all, is offensive as well. The whole situation could be entirely averted in the very beginning by insisting that the U.S. military is not going to cater to any Muslim sensibilities.
NOTE: The moment they begin paying these mental patients attention, let alone placating them, is the moment they hand them the keys to the entire ward.
H/T: Sheik Yer'Mami via Atlas Shrugs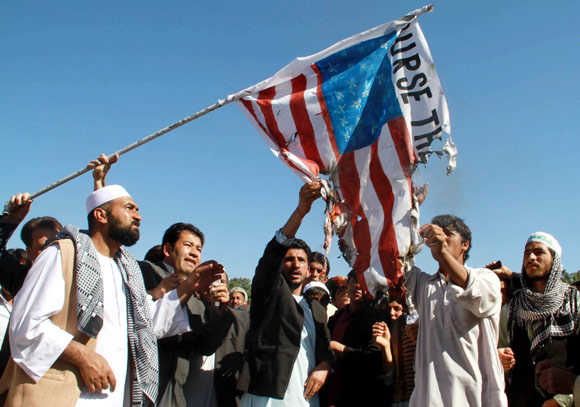 Discipline recommended for 7 U.S. troops in Quran burning
WASHINGTON (AP) — A U.S. military investigation is recommending that as many as seven U.S. troops face administrative punishments, but not criminal charges, in the burning of Qurans at a U.S. base in Afghanistan in February, The Associated Press has learned.
U.S. military officials said the classified report and recommendations for disciplinary action against the service members involved were delivered to the Pentagon more than a week ago. They have been turned over to the Army and Navy secretaries. No final decisions have been made.
According to the officials, one Navy service member and as many as six Army soldiers could face nonjudicial disciplinary actions, which can range from a letter in their file to docking their pay or assigning them additional duties.
The lack of any criminal charges is in line with early assertions from military officials that the incident, while regrettable, was a mistake. But it is likely to anger Afghans who were enraged by the burning.
NOTE: Anybody here really, truly care if Afghanis are enraged? Really?