As much disdain I have for the Marxist-In-Chief, I have that much more for fundamentalist Muslims, who can all crawl back into the muck hole from whence they came..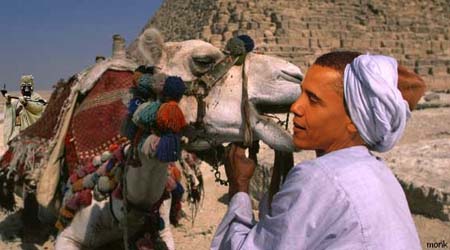 Report: Al-Qaida affiliate offers reward of ten camels for Obama's whereabouts
Somali group al-Shabaab reportedly offers reward of chickens and roosters for information on Hillary Clinton's 'hideout,' mocking U.S. for putting out a bounty on its leaders.
A Somali Islamist militant group is offering rewards of chickens and camels for information on the whereabouts of U.S. President Barack Obama and Secretary of State Hillary Clinton, mocking the millions of dollars the United States has offered for leaders of the al-Qaida affiliate.
Fuad Muhammad Khalaf of the Shabaab al-Mujahideen Movement in Somalia made the offer after Friday prayers, according to the SITE Intelligence Group, which monitors militant organizations.
"Whoever reveals the hideout of the idiot Obama will be rewarded with 10 camels, and whoever reveals the hideout of the old woman Hillary Clinton will be rewarded 10 chickens and 10 roosters," he said, according to SITE.