The Tundra Tabloids mourns the loss of St-Sgt. Netanel Moshiashvili.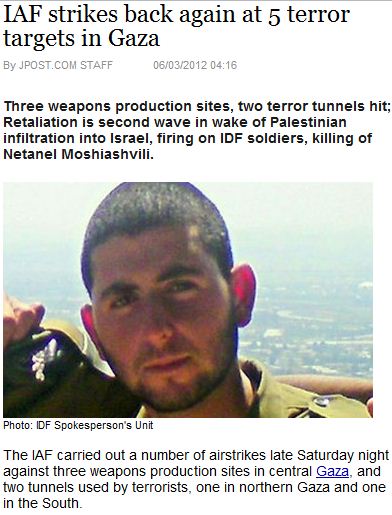 Palestinians sources said seven people were lightly injured by a missile in the central Gaza Strip, according to Israel Radio. According to the report, four of the injured are children, including a baby.

The airstrikes were the second wave of what appeared to be retaliation against various Gaza terror groups following the shooting of St.-Sgt. Netanel Moshiashvili on Friday morning in a clash with a Palestinian gunman who had infiltrated Israel from the Gaza Strip.

The IDF said the gunman crossed into Israel at 5 a.m. after cutting through the security fence using "sophisticated means."

A nearby reconnaissance unit detected the shooter and a unit from the Golani Brigade's 12th Battalion was immediately sent to the scene.

The incident came a week after a Palestinian sniper in the same central-Gaza area shot and wounded two soldiers.

While fears were that the terrorist had planned to enter a nearby kibbutz, either Nirim or Ein Hashlosha, the IDF was also considering the possibility that the terrorist's objective was to kidnap a soldier.