It can now be dubbed the medal of subjugation.
Socialists and socialism have nothing to do with freedom.
The distribution of wealth outside of the free market place, is pure theft, involving coercion, subjugation and dehumanization of the individual. This woman should have never been given such a medal of distinction, she's a rabble rousing "community organizer like the jerk hanging the medal around her neck. Her socialist mindset is an anathema to traditional US thinking.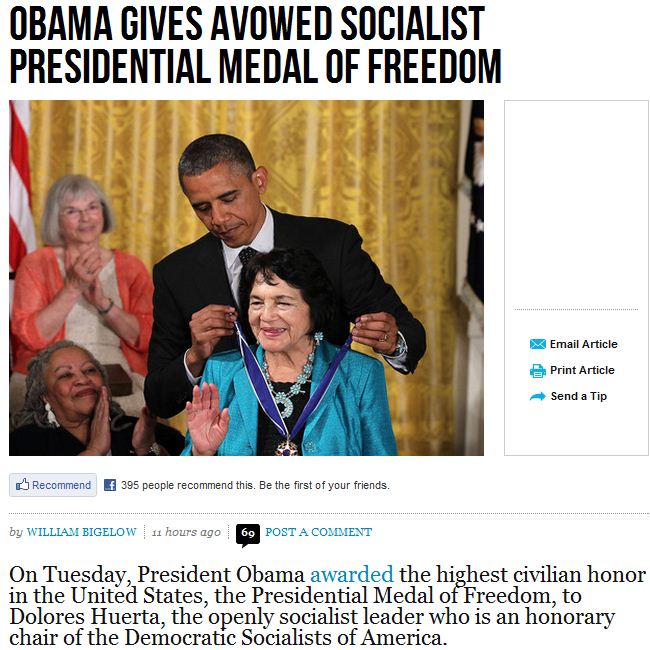 Huerta, the partner with Cesar Chavez in founding the National Farm Workers Association, has never hid her socialist views; in 2002 she said:
"I think organized labor is a necessary part of democracy. Organized labor is the only way to have fair distribution of wealth; it helps create a middle class. Without a middle class, there would be no democracy."
Even better for Obama, she has been candid about her hatred for the Republican Party; In April 2006, Huerta, speaking at Tucson High Magnet School in Arizona, twice said, "Republicans hate Latinos" as well as reiterating her socialist attitude:
"The average pay of a CEO of a Fortune 500 company is three million to nine million dollars a year. What are you going to do with all that money, right? I don't care how much money you make. You can only eat three meals a day, you know. You can only wear one suit of clothes a day, you know. So the idea, a lot isn't wrong so long as you use it for the people like what Hugo Chavez is doing in Venezuela. Why can't we do that here in the United States?"
NOTE: Socialists have no concept of sound free market economics and private property rights, with both being tied to your individual liberty. You can't have true individual liberty without the protection of your own personal wealth and a free market to pursue your dreams. The woman is bound by pure class warfare, illogical thinking, as is Obama.