A FETISH FOR TYRANNY
Al-Qaida (and like ilk) utopians believe a Caliph will solve all problems and usher in equality and peace between peoples. Socialist utopians believe in all powerful government to do the exact same thing, but on a secular level. Eurocrats want all member state governments to bow towards Brussels (on the macro level they want all governments to bow to the edifice on Turtle Bay), the Islamic fundamentalists (mustards) want everyone to bow to Mecca. Either way, they both want to make you bend over.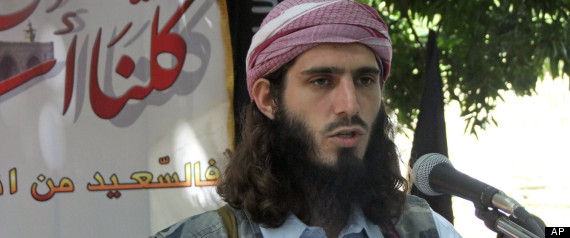 Omar Hammami, the American terrorist who has served as a Shabaab military commander, propagandist, recruiter, and fundraiser, has released a statement advocating for jihadists to declare a global Islamic caliphate.
Hammani's statement was posted on May 25 in four parts [part 1, 2, 3, and 4] by a jihadist known as "somalimuhajirwarrior," or "foreign Somali warrior," on a YouTube website. The lecture is titled "In Defense of the Khilaafa: The Next Stage."
The release of the lecture took place just one week after Hammami, who is known as Abu Mansour al Amriki, published part 1 of autobiography, where he recounted his life in the US, his path to jihad, and his time with the Islamic Courts Union in Somalia. The autobiography refuted the rumors that he was executed early last month by Shabaab for releasing a video in which he claimed his life was in danger. Shabaab quickly denied Hammami was in danger.
In the lecture released on May 25, Hammami said that the establishment of the global caliphate is critical to prevent the West from dividing and conquering the disparate jihadist movements and defeating them individually. He cites a RAND study from 2006 that said al Qaeda's ideology is its center of gravity, and suggested methods for causing the jihadists a strategic defeat.
Via Weasel Zippers and Long War Journal