I wish em' luck. They'll need large numbers of dedicated liberal minded folk to turn the tide against the fundamentalist mustards. I didn't know, but not surprised that Erdogan, the present PM, was the mayor of Istanbul in the 90's, and had banned alcohol from public establishments.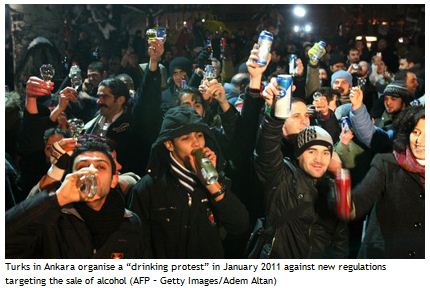 Turkey: 1st province to ban alcohol drinking in public
In Afyonkarahisar. Offenders to be fined 35 euros
(ANSAmed) – ANKARA – The governor of the Turkish province Afyonkarahisar, 250 km south of the capital Ankara, has banned alcohol consumption in all locales and public places, claiming that he is "acting in the interests of the community". This is the first decision of the sort to be made in a Turkish province, and those supporting the secular nature of the state say that the country is seeing "rampant Islamization" under the government of 'moderate' Islamist Prime Minister Recep Tayyip Erdogan.
The banning of alcohol, revealed Hurriyet, follows on the heels of a recent appeal by the Islamic government's Health Minister Recep Akdag in support of anti-alcohol consumption measures. Afyonkarahisar, 180,000 inhabitants and capital city of the province of the same name, founded by the Hittites and then conquered by Alexander the Great, was called Afyon (opium) until 2004 when the Parliament in Ankara changed its name.
 The governor's decree prohibits the sale and consumption of alcohol in public places – including parks, picnic areas, cemeteries, bridges, historical sites and abandoned houses, as well as all public transport. Those breaking the law will be fined 82 YTL (about 35 euros). The decision, said the governor's office, was made for the "public good" and will make it possible to "safeguard public order and prevent traffic accidents"
H/T: Fjordman