I would make it even more clear, by stating that it was Islamic supremacy involved, which is a severe form of institutionalized bigotry. It's galling to know that they actually go around spreading nonsense about "Islamophobia", all the while they (not all but enough) preach hatred and destruction of the other, while its main representative body, the OIC, denies Muslim anti-Semitism.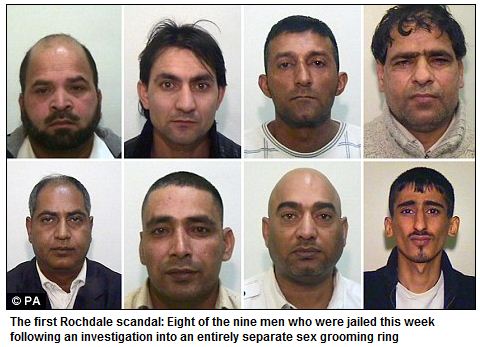 Child sex grooming case WAS about race and it would be a 'national scandal' if political correctness meant it was not stopped sooner, says equality chief Trevor Phillips
By DANIEL MARTIN
PUBLISHED: 21:28 GMT, 13 May 2012 | UPDATED: 12:03 GMT, 14 May 2012
Equalities chief Trevor Phillips has described as 'fatuous' the idea that there was no racial link in the Rochdale child sex grooming case.
Last week, nine men – eight of Pakistani origin and one from Afghanistan – were jailed after being found guilty of running a sexual exploitation ring involving girls as young as 13.
Yesterday, Mr Phillips, the chairman of the Equalities and Human Rights Commission, said it would be a 'national scandal' if it emerged that social services and schools had not acted on reports of abuse for fear of 'demonising' minority communities.