And as far as ignorant politicians, and their cadre of analysts in the various think tanks of Europe are concerned, it's we in the Counter-jihad, the supporters of liberal democracy, minorities and real human rights, that are the radicals. Think again.
NOTE: Don't forget to read at Vlad's :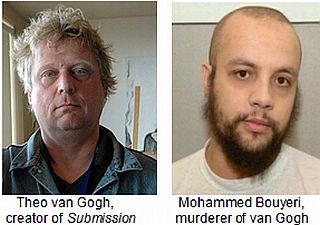 On National Liberation Day, Muslims ask for Release of Murderer
On National Liberation Day, 4 May, twenty radical Muslims of the Sharia4Belgium group demonstrated before the high security prison in Vught. They asked for the liberation of Mohammed Bouyeri, who was sentenced to life in prison for the cruel murder of mediamaker Theo van Gogh in 2004. They said that the Dutch were feasting while many innocent "brothers" are in jail. At the end of last year, the same group disrupted a debate about the modernization of Islam in Amsterdam.
H/T: BadNewsFromTheNetherlandsBlog Via: Elsevier.nl