This is one 'work accident' we can all be relieved about, blowing himself up while not hurting anyone else in the planned terror attack against Christmas shoppers in Stockholm, is a win, win situation.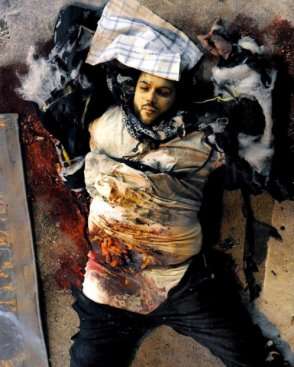 Stockholm bomber's 'accomplice' on trial in Scotland
A man went on trial in Scotland on Wednesday accused of conspiring with the man who carried out Sweden's first ever suicide bombing.
Nasserdine Menni denies working with sports therapist Taimour Abdulwahab, who blew up his car and then himself in a botched attack near a busy shopping street in Stockholm on December 11, 2010, killing himself and injuring two people.
Menni is accused of acting with Abdulwahab and others to further terrorist aims by criminal and other means, including the use of explosive devices, Glasgow High Court in Scotland heard.
The accused, whose exact age is unknown, allegedly transferred money to Iraqi-born Abdulwahab, communicated with him repeatedly by telephone, online and in person between 2003 and 2010.
He is also charged with fraudulently accessing three bank accounts.
In a trial expected to last up to three months, Menni is also accused of fraudulently claiming benefits and pretending to be an asylum-seeker in order to stay in Britain.
H/T: Fjordman