Anyway you approach it, the fundamentalists are to blame, they simply refuse to allow others to have a different opinion. If you think that placating them will cause them to moderate from that position, you're in total denial.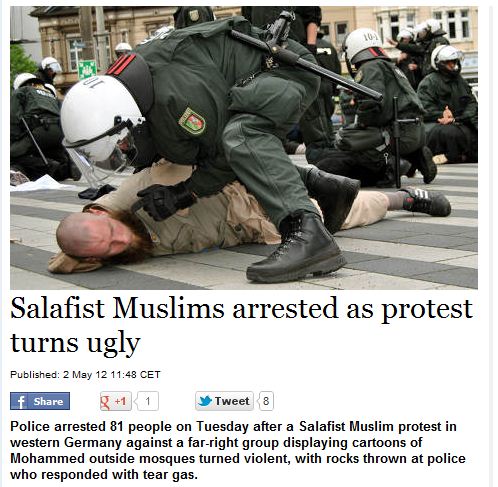 Around 70 Safalist Muslims showed up outside a mosque in Solingen, North Rhine-Westphalia (NRW), where the anti-Islam grouping "Pro NRW" had set up a stand showing cartoons of Mohammed. Some were copies of the Danish cartoons which sparked global outrage in 2005.

Police made 44 arrests and confiscated a bag of rocks from a protester at the apparently unplanned protest, local paper the Rheinische Post reported on Wednesday.

Prosecutors have since opened a probe on suspicion of grievous bodily harm and
disturbing the peace, a police spokesperson said.

On Monday a state court lifted a previous ban on the "Pro NRW" group using Mohammed caricatures in their election campaign in the western state of North Rhine-Westphalia (NRW) – despite criticism that the idea was pure provocation, and amid fears of violence.

And while there were protests in a few of NRW towns, the city of Solingen was the most eventful, with Salafists draped in flags bearing Arabic script and chanting pro-Islam messages.