The first mistake was allowing Turkey to join NATO, the second mistake was to refrain from kicking Turkey out when the AKP came into power.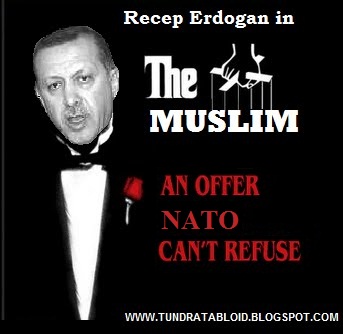 The Turks are at the forefront of the drive to push the OIC into high profile settings, trying to make it on par with all other international organizations. The OIC is a racist, bigoted and anti-Semitic organization, and those who fawn over it, are a bunch of appeasing stooges, willing to "kiss the ring" even as the blade descends upon the neck. It's all about sharia folks, which means the non-Muslim forced into observing many of its rules, that is what the OIC is all about.
Turkey blocks EU from NATO summit unless OIC also attends
30 April 2012 / SERVET YANATMA, ANKARA
Ankara says it will block EU participation in an upcoming NATO summit unless the Organization of the Islamic Conference (OIC) is also allowed to be present.
EU member states had proposed participation by some of the top EU bureaucrats, including European Commission President José Manuel Barroso and President of the European Council Herman Van Rompuy, who are now unsure whether they will be able to attend the summit taking in Chicago on May 20-21 as representatives of the union due to the objections from Turkey, the Wall Street Journal (WSJ) reported on Friday. Raising the EU's commitment to a NATO peace mission in Afghanistan, EU member countries including France had argued that the EU should be represented, while Turkey is maintaining that there should only be member state participation in the summit, the WSJ claimed.
"If non-NATO members will also participate, the OIC should be represented [in the Chicago summit] first and foremost," Turkish diplomatic sources said in explaining Ankara's position, speaking to Today's Zaman on Sunday. The sources claimed that the OIC's commitment exceeded the EU contribution in the Afghanistan peace mission.
The EU has exerted efforts for the reconstruction and democratization of Afghanistan in preparation for the post-NATO-mission period in the country. The EU launched a rule of law mission (EUPOL) under the banner of the European Security and Defense Program (ESDP) in June 2007. The union has also initiated a program for justice reform and is helping to fund civilian projects in NATO-run Provincial Reconstruction Teams (PRTs).