Off topic but this has got to be said, is this guy crazy? As Vlad just said to me, "irony alone, the greatest force in the world will be enough to sink it." And I add, the hubris as well.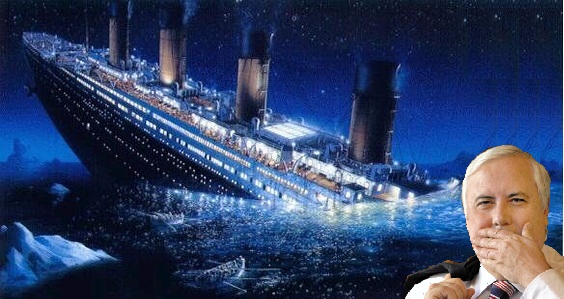 BBC: Palmer: "Of course it will sink if you put a hole in it," Mr Palmer said in response to questions from reporters on whether the Titanic replica would sink. "It is going to be designed so it won't sink," he added. "But, of course, if you are superstitious like you are, you never know what could happen."
Titanic II to Be Built by Billionaire Palmer, Chinese Yard
April 30 (Bloomberg) — Australian billionaire Clive Palmer plans to build a 21st-century version of the Titanic with the help of a Chinese shipyard, with the cruise ship's maiden voyage from England to North America scheduled in late 2016.
Palmersaid he had invited the Chinese navy to escort Titanic II on its maiden voyage to New York, according to an e- mailed statement. The initial pact with China's CSC Jinling Shipyard also includes plans for a fleet of luxury liners.
[…]
"It will be every bit as luxurious as the original Titanic but of course it will have state-of-the-art 21st century technology and the latest navigation and safety systems," Palmer said. "The Chinese ship building industry with our assistance wants to be a major player in this market."
The Titanic, commissioned by White Star Line, was the largest liner in the world when built at just under 270 meters (886 feet) and 53 meters high.
NOTE: He plans to use a Chinese shipyard.