Where is the outrage?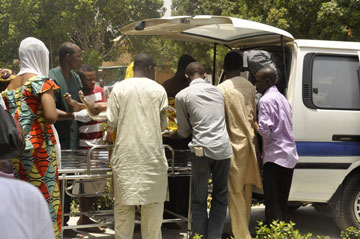 These Christians are being slaughtered on a daily basis, and there is no international outrage going on. The WCC, the OIC, the UN, EU, and a whole host of supposed "human rights" orgs are not mounting a campaign to for the Nigerian government to forcibly end the Boko Haram's vicious campaign of jihad against these people.
NOTE: Obama says that the war on terror (war against the jihad) is over. The Islamic fundamentalists beg to differ.
21 DEAD IN ATTACKS ON CHRISTIANS IN KENYA AND NIGERIA
(AGI) Nairobi – There have been new attacks against Christians in Africa where one person was killed ad ten wounded, four seriously, when a grenade was thrown at a Catholic church in Nairobi. Police sources have reported that twenty people died in an attack in Nigeria. According to the daily newspaper the Daily Nation, no one has yet claimed responsibility for the attack during Mass at the international Church of God's Miracles in Nairobi's Ngara district.
Six of those wounded have been hospitalized at the Guru Nanak Hospital while those most seriously injured are at the National Kenyatta Hospital. A number of witnesses have reported that the bomb may have been placed under the altar by one of those attending Mass, probably an accomplice. No one has yet claimed responsibility but it is thought that the attacks was carried out by the Somali militia Shabaab, linked to Al Qaeda and previously responsible for other attacks against Christians in Kenya. In March one person died in a similar attack in Mombasa and nine died in attack on a bus stop in Nairobi. Last week the American Embassy warned its citizens in Kenya that attacks were considered imminent. . .