The following interview with Simon Plosker of Honest Reporting was published today on Israel National News, and is republished here with the author's consent. Kudos to both Dr.Gerstenfeld and to HR's Simon Plosker for a most excellent interview.
Keeping the media honest by highlighting their errors, while teaching the readers to be more discerning in what they're reading, is an important task, and in part, explains why mainstream journalism is having such a difficult time attracting loyal readership.
People are becoming more aware of the media's political agendas, biases and errors against Israel, at least more than they were a few decades ago, and it's in part, due to wonderful organizations like HR, keeping the media honest and the public aware of it.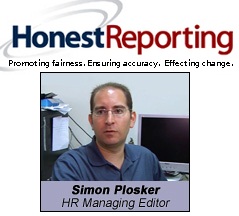 HonestReporting: Watching the International Media
Manfred Gerstenfeld interviews Simon Plosker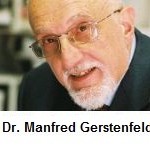 "Israel should aim to ensure that it is fairly and accurately represented in the international media. To do so, the media watch organization HonestReporting monitors media, exposes cases of bias and effects change through action and education. This is very different from claiming that Israel is perfect. Many Israeli citizens have issues with their own government on matters which are wrong and they do not like. We do, however, want Israel to be held up to the same standards as any other country."
Simon Plosker is the Managing Editor of HonestReporting since 2005, having worked in public affairs for the Board of Deputies of British Jews prior to immigrating to Israel in 2001. He holds degrees from Birmingham University and the London School of Economics.
"HonestReporting was founded in 2000 by a few students in London. They were incensed by the major anti-Israeli media bias in Britain at the time of the renewed outbreak of Palestinian violence in 2000. This bias continues until today. These students started sending out emails correcting the false picture the media created. Their activities grew until a point where they could no longer manage. With the initial help of the religious outreach organization Aish Hatorah, HonestReporting – which now has charity status in the United States and Israel – became fully independent in 2002.
"Our first major success came when the New York Times in 2000 reported that an Israeli policeman had beaten up a Palestinian on the Temple Mount. Later it became clear that the story was turned on its head. An American Jewish student, Tuvia Grossman had been beaten up in an Arab neighborhood by a Palestinian mob. He was rescued by the Israeli policeman. The false version was reported by many media. The resulting campaign by HonestReporting forced the New York Times and other media to issue an apology and correction. A French district court in 2002 even instructed the daily Liberation and Associated Press to pay 4,500 Euro each as damages to Grossman.
"A more recent example concerned CNN Senior Middle East Editor Octavia Nasr, who tweeted her admiration for and sadness at the passing of a spiritual guide of Hezbollah on her personal Twitter page. HonestReporting called for action and was cited as the major driver in exposing the affair, swiftly leading to Nasr's removal from her CNN post.
"HonestReporting is now a 'virtual' operation with the internet as its main tool. Our main form of communication – apart from our website – is our email alerts. We try to cater to an audience which will not read lengthy research papers. People nowadays have very short attention spans. We supply them with sharp and short texts on which they can act. For those who want to know more, we provide links to material such as original newspaper articles, research organizations or reliable blogs.
"Educating our readers to take action is very important, which is why we have also produced online advocacy lessons in the form of our Digital Diplomats videos as well as slide show presentations that can be used by activists in a practical way.
"Of course, encouraging letter writing to the media is an important part of our work and we like to reward the best in our 'Letter of the Month.' However, social media is increasingly becoming the new battleground of public opinion. We are at the forefront of using platforms such as Facebook and YouTube to promote our material and ensuring that it is viewed way beyond the choir of core pro-Israel activists.
"An effective tool is the annual 'Dishonest Reporter Award.' The public can send their votes for our nominations of the worst examples of anti-Israeli bias. While the BBC is nearly always a contender for this negative honor, this year's award was won by the Guardian.1 We gave a long list of reasons why the paper stood out with skewed and sometimes vitriolic coverage of Israel. This included an 'anti-Semitic response to the Gilad Shalit swap.'2 They also published an op-ed by the Hamas Chief of International Relations Osama Hamdan, as well as a letter by the academic Ted Honderich, justifying Palestinian terror. These are only a few examples demonstrating the paper's obsessively negative treatment of Israel.
"Besides covering global English-language media as well as providing dedicated coverage of the UK media, HonestReporting has affiliates in Canada and Latin America. With over 150,000 subscribers and over 100,000 visits per month to our website, we hope to continue expanding to cover more European media outlets in the near future. The battle to defend Israel against media bias is unlikely to dissipate any time soon."