And we all know how well that works out.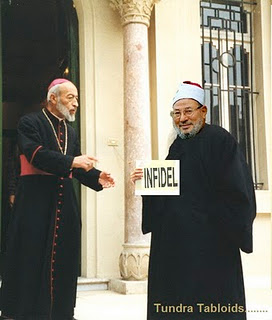 Any "inter-faith dialogue" with members of a highly totalitarian/supremacist ideology that refuses to tackle its own record of abuse, intolerance, subjugation, and history of anti-Semitism and out right hatred of 'the other', cannot be trusted to engage in real "dialogue". They can't even own up to Islam's history of African and European slavery, so what can be expected from this "national interfaith dialogue", is more scheming by Muslims to get sharia as common place in Canadian society as possible.
Islamic community planning national interfaith dialogue
The Islamic Supreme Council of Canada is planning to hold a national interfaith dialogue with Christian and Jewish leaders in Canada.
Calgary Imam Syed Soharwardy said the council wants to hold a series of interfaith dialogues in all major cities, including Montreal, Toronto, Mississauga, Halifax, Calgary, Edmonton, Saskatoon, Winnipeg, Surrey and Vancouver.
He said the purpose is to discuss: religious and secular fundamentalism and extremism in Canada; the role of religion in Canadian society; the impact of international events on faith communities and their relationships in Canada; the perceived threat of sharia law; Canadian values versus religious values; Jewish-Christian values versus Islamic values; freedom of speech and the freedom of religion in Canada and around the world; and improvements in interfaith relationships in Canada.
H/T: Baron Bodissey